Discover the Lomography lighting tricks and start making badass renders (with the old-school film defects like a light leak).
You are reading the chapter 16 of the Lighting Project, the manifesto of a think-different approach to digital lighting. The most mind-boggling project of my life.
Do you want to try a fresh hipster stuff… in digital lighting?
The stuff that will make the viewers groove? Yay!
Hint: it's an underground stuff from the 20th century. Sexy. A bit bizarre. Revolutionary.
It's called Lomography.
Shall I explain?
LOMO LC-A was a cheap soviet camera discovered by a group of Viennese students. They were hooked with the badass lighting defects this camera produced.
• Rainbow-colored flashes
• Extreme optical distortion
• Light leaks and film burn
Today lomographers even detach the lens ever-so-slightly from the camera body and call it "lens-whacking".
Why? It gives lighting a vibrant artistic touch.
But more importantly, Lomography is about a shoot-from-the-hip lifestyle. Lomography is the art of junk, that sets millions of minds on fire.
You can do it too. In computer graphics.
Sounds good?
How can you re-create a similar aesthetic experience in 3D? How can you make your renders look hipster and dazzling?
Let's explore three steps…
Lomography trick #1: Whack Your (Virtual) Lens to Get a Bizarre Lighting
To add an artistic twist to your lighting, experiment with what lomographers call the "lens whacking".
Essentially lens whacking means that you deliberately make a weird sh#t like breaking the lens and you expect a surprising outcome.
Imagine.
You walk through a crowded Amsterdam street on a late December evening. When you feel bored, you point your LOMO LC-A at a random spot and CLICKKK, the flash goes off. A few days later you process the photos, but you can't recognize the place. The faces are gone too.
Instead you see the tantalizing light leaks dancing their own rumba.
That's why people break their cameras. We love surprises.
Ready to break?
•  Optical defects
Start by creating a lens and placing it in front of the camera, like in real world. Any refractive elements will work. As long as your software has raytracing, but any potato nowadays has raytracing.
Bend the hell out of the lens. Clone it.
Make it matte and see how the light is smeared across the lens.
Seeing the effect in real time is the best way to do it.
•  Film emulation
Lomography fans usually don't give a damn about composition and studio lighting setups. What they do care about is the hipster looks that are achieved with different kind of analogue films.
Did I hear you say Instagram?
Well, kind of. But a real Lomography has much more oomph to it than just a bunch of post-pro filters.
Imagine that every film respond to light with a different flavor.
Some films clip the whites. Some wash out the blacks. And some have shenanigans going on in the mid range (plus a crazy color tint).
Aim for shenanigans.
Destroy the RGB curves to create your unique brand of film.
Lomo Shrimp 100 iso? Turquoise Nerd XPro 35mm?
• Light leaks
Light leak is the star of our show.
To simulate the light leaks in 3D, once again stack a few refractive planes in front of a camera. Then you can throw all kind of textures in to control the distortion, the roughness and the color tint of the lens.
Yay, and you don't have to pay a cent for a photographic equipment. For us CG artists the spare lenses are free.
BONUS TIP: To cook a believable light leak, spice it up with an additive blending.
Lomography trick #2. We Need to Go Deeper (Into the Post Processing)
Your first step was to whack the lens in 3D.
So far so good.
What else do you need to do to squeeze the most juice out of Lomography?
Post process the image with even more sexy defects. More lens damage, more processing defects and more grrrrrrain.
Let's go.
• Light leaks
Apply these defects to push your lighting further into the old-school analogue film territory:
• Film processing defects (Doubling)
If you scrub through the gallery on Flickr you'll notice that kind of photos. They look like the ghostly reflections in the shop windows, with double and triple overlays of different images.
When I stumbled across it I had only one thought.
Why the hell don't we use this trick in CG?
• Chromatic aberration, dust, scratches and grain
Scratches and grain give the subliminal boost to what we call photorealism.
But what is photorealism, anyway? Just a silver halide reacting to light.
Let's get straight to the most juicy part.
Lomography trick #3: Don't Think, Just Shoot
Now when you have all Lomography gears rotating, try this.
"I keep a stiff upper lip
And I shoot from the hip" — AC/DC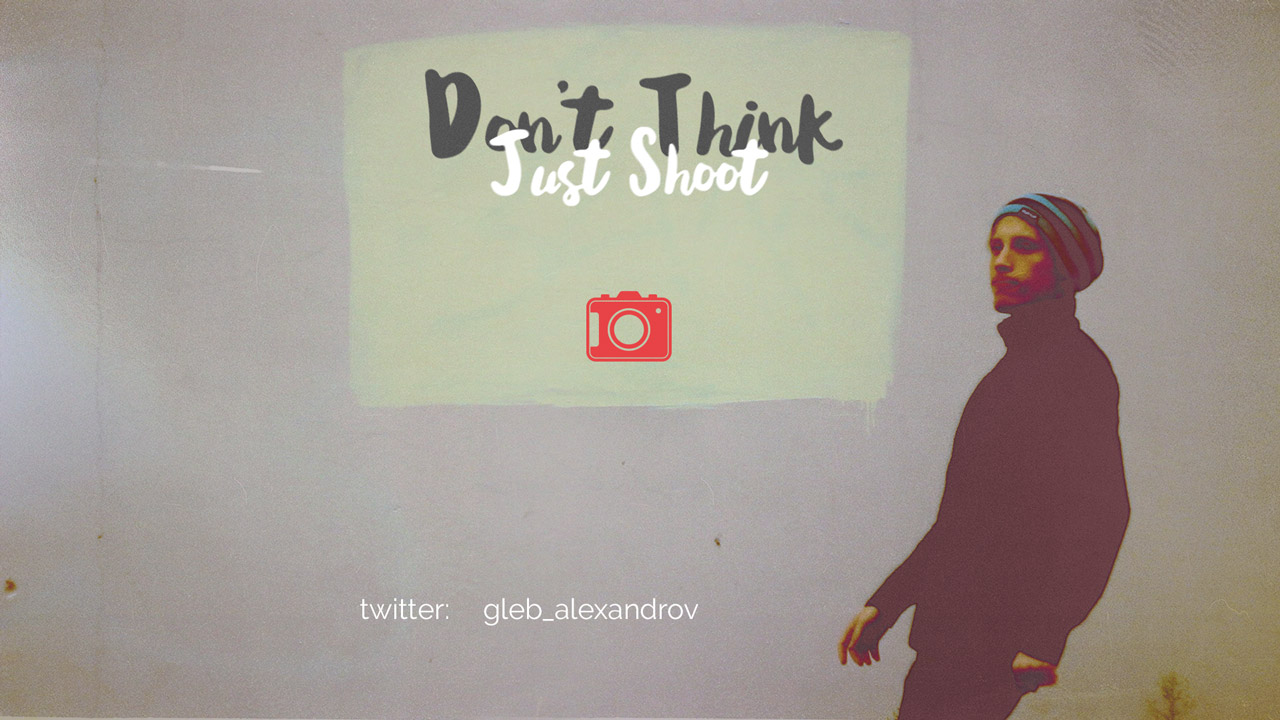 Don't plan your 3D render in advance this time. It means no sketch and no concept art.
You probably think, what the heck?
But ahoy, some lomographic cameras didn't have viewfinders!
Because Lomography is about capturing the environment in here and now.
Lomography is about surprise.
Do the same in 3D and you will be stunned by the results.
Waltz into the scene with your camera ready. And hit the render button over and over again while listening to Beatles. Though I'd prefer Muse or maybe Ghost.
Let the whacked lens (all the rituals you followed through this tutorial) work its magic.
You may find really hot camera angles and unexpected compositions if you apply the motto "Don't think, just shoot". Because when you stay tuned to the here and now, you open a new perspective on lighting.
You open a perspective that is an aesthetic experience and surprise.
Over to You
Highest of fives.
If you feel that this Lomography tutorial will be helpful to someone you know, share it by clicking the buttons below this text. It means a world to me, because this way you help me to continue writing the Lighting Project.
The Lighting Project is a manifesto of a think-different approach to digital lighting.
This book will help aspiring artists to revolutionize CG lighting by embracing artistic weirdness and aesthetic perception.
And I'm excited to see your pictures with light leaks and other photo defects. Go ahead and post your wip or finished renders in the comments.