update 1.04
Are you into digital art and at the same time, involved in blogging & social media? So am I, and here is a huge list of resources for artists. 
I can guarantee that pretty much every resource, that is mentioned here, is proved to be essential in my daily practice of a digital artist. It all comes from my experience and I'm sharing it, so you can see all these pieces of the puzzle in one place.
Resource section is going to be updated often, as I'm getting to know the new trends & persons. So stay tuned to the updates.
Disclaimer: nobody pays me for mentioning their content here. It breaks my heart. Oh, come on?
MY PERSONAL FAVORITES:

WordPress.org: Can't stress enough, how intuitive it is to create & maintain WordPress site. Really, if you are thinking about starting a blog – just go with WordPress and see what is has to offer. I recommend using self-hosted variant and buying a hosting. Though, if you just want to try the basic blog without hassle with hosting, go to wordpress.com.

Blender – best free open source 3d content creation suite. All-in-one tool, features everything you may need to kickstart your digital artist career. I'm a huge fan of what they are doing with media landscape and for us all.

Unity – my favorite game development system (at their website, they call it Ecosystem). Lightweight, fast, relatively easy to learn. Can publish to 16 (?!) platforms and that list is growing. Really impressive trend in gamedev. Jump in that boat.

Blenderguru – this learning hub is maintained by Andrew Price – all-round great guy, one of the best tutors and bloggers in CG art space. Learned a lot from his podcasts, including blogging & productivity tips.
FREE AND OPEN SOURCE SOFTWARE FOR ARTISTS
Blender – this tool has a gorgeous community of super connected people. That's what you need when you start. Accessible tool, but more importantly, really smart crowd that creates value.
Gimp – free raster graphics editor, which is capable of doing what you'd expect from it. A nice community too, by the way.
Krita – very nice free digital painting application. Stylish, really stylish.
Inkscape –  open source vector graphics editor, similar to Illustrator. And yes, it CAN compete with Adobe soft in many ways (that said, I think that Adobe does a great job with its soft too).
Sculptris – it's like a younger sister of Zbrush. But free and easy peasy to learn. Features dynamic tessellation, or so called digital clay.
Alchemy – unconventional project that explores the new ways of generating shapes in 2D. Think of it as a Rorschach inkblots generator. Super useful for getting new ideas for concept art.
PAID SOFTWARE FOR ARTISTS (MUST-HAVE)
Zbrush – I guess that Zbrush doesn't need introduction, hmm? The best (most responsive, innovative, optimized) digital sculpting tool for artists. Get it now.
Photoscan – almost magical way to create 3D models from photos. Photogrammetry is becoming more and more popular, so jump into that boat. Maybe your photography skills will take your 3D stuff to the new level. Recommend.
PODCAST SOFTWARE
Bandicam – nice and very fast screen capture software that I use for recording my video tutorials.
BLENDER RESOURCES
Blender.today – a modern looking crossbreed between Reddit and Blender, with a super fast news posting interface included.  Whoever did this, they have my deepest respect for that kind of modern thinking.
CgCookie – the quality and frequency of CG tutorials on this site is mind-blowing. Stuff that Jonathan Williamson, Kent Tramell and other artists produce is really professional & clear. Free tutorials plus paid subscription. Has Blender oriented section, called – surprise! – Blendercookie.
Made a few tutorials for them – very nice folks, great communication.
Blenderartists forum – one of the best places to see the artworks of other beginners/professionals/nerds and to request the feedback.
Blendernation – if you want to keep track of what's happening in Blender community, this IS the resource. Bart Veldhuizen, together with community reporters, is doing a great job here, putting it all together every day.
Gooseberry Open Project – is the first fully open-sourced feature film ever, and we are able to see every detail of creative process. So jump in the boat.
Blendtuts – educational resource with a very tasty collection of Blender tutorials. Maintained by Oliver Villar (check out his newest book!).
BlenderDiplom – tutorials, updated by Gottfried Hoffman on a regular basis.
BlenderSushi – dark magic and procedural tricks by generalist and technical cg artist Jimmy Gunawan.
Creative Shrimp by Gleb Alexandrov – sorry, can't resist the temptation. Bam!
BLENDER ASSETS
BlenderMarket by CgCookie – this is THE place to sell your products for Blender. Built by the Blender community, for community.
The Grass Essentials pack by Andrew Price – you just need to watch the trailer and I guarantee that you will be hugely impressed with the quality of a grass. Probably that's why Blender community goes insane with it.
BlenderMarket – the first (very serious and professional) attempt at creating an asset store for Blender – by CgCookie. It features lots and lots of stuff already and looks promising. Also, this marketplace contributes to Blender development fund by donating some percentage of the revenue to it.
Blendswap – the best selection of the free assets for Blender (licensed mainly under CC-BY or CC-0), hands down. I have composed a bunch of scenes using  the assets solely from this resource. That's something.
FREE 3D ASSETS
Archive 3d – huge archive with free architectural models. As simple as it sounds, no hidden shit. Though, most of the models are in 3DS and GSM formats, so you will need to convert them to OBJ (if you want to bring them into Blender).
ARTISTS
Reynante Martinez – an artist with a very distinctive style, who also loves sharing his knowledge online. He is writing a book about materials, so if you are into shader work, check Reynante's blog right away.
Beeple's Blog – let me say just a few words. Mike Winkelman is producing an image each day, for 2931 days already. Each image is remarkable in its own fashion. Bizarre. Stylish. Craploads of daily awesomeness. 
Neil Blevins – astonishing sci-fi, robotic, alien artworks (and advice!).
Manu Jarvinen – top-notch artist, illustrator and modeler that loves open-source software. Look at his artworks! So damn stylish and also… efficient? Can't find the appropriate word. Love it though.
Adaptive Samples – Visit Greg Zaal's blog to learn some very intricate Blender tricks, and to download free goodies like panoramic interior HDRi. Greg, thank you so much!
ARCHITECTURE BLOGS
Ronen Bekerman – if you are into architectural visualization, this website is just what you need to get ahead in archviz. Ronen is constantly posting top-notch making ofs, case studies and architectural renders.
FREE IMAGES AND TEXTURES (HMM, AND PHOTOS!)
Pixabay – The friendliest license out there. Creative Commons CC0 – that means that we're absolutely free to do whatever we want with the images (to the extent possible under law, of course). Modify, use in the scrapbooking, pack in the game, send it over to your best friend or broadcast on Youtube channel.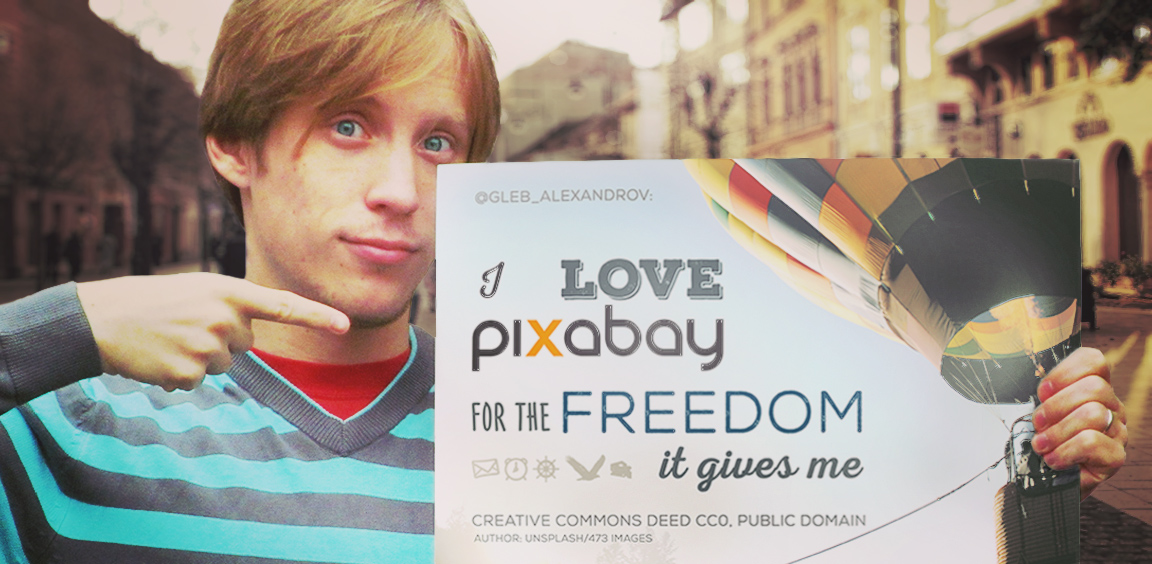 License: Attribution not required, but appreciated. Absolutely free images and textures.
Image After – another great resource in terms of license. We can modify, redistribute as a part of printed work and use in the commercial projects. One thing that we can't do is to resell the images on the competing resource. No surprises here, I guess.
License: Free for personal or commercial use, no hidden obstacles.
FreeImages  – the pictures can be used for free in many cases (related to digital distribution) such as: in magazines, books, dvd-covers, on websites and broadcast film and video.
License: Free for personal or commercial use, with some restrictions.
Flickr –  very talented people and one of the sexiest photo collections out there. But there is one little thing that sometimes stops me from downloading. While technically we can filter the content by Creative Commons license, it precisely means Attribution 2.0 Generic type of license.
License: There are free photos, but attribution required.
CgTextures – despite the paid subscription (non obligatory, but 15 megabytes a day is never enough) CgTextures license is quite permissive to make us, texture geeks happy. The main feature that I feel very excited about is that all textures can be used for free, even for commercial purposes.
License: Free to use in the projects (no reselling and redistribution).
CC Search Free Images – not exactly the source of the images, but could be the starting place for any Creative Commons related search.
7 Cool Websites with Free Images and Textures – my article about Creative Commons licensed images and textures. There you will find the detailed list of resources, which I use when searching for a free stuff.
Gratisography – hipster alert! Photos of a great style, made by Ryan McGuire. I enjoy a unique artistic approach of this guy.
License: Free of copyright restrictions.
Unsplash – hand-picked daily photos of outlandish quality and clarity. Very blog-post-thumbnail-friendly type of stuff.
License: Free of copyright restrictions. Do whatever you want.
3D ART MAGAZINES
3dArtist Online – had a pleasant experience of writing an articles for this magazine for CG artists. Also I've heard, that reading the articles can be interesting too 😉 The issue costs around £6.00, give it a try.
3dWorld (at CreativeBloq.com) – one of the most bombastic international magazines, dedicated to 3d art. Wrote several tutorials for them – and can recommend it. Very nice staff.
Itsartmag – a lively community with the constant updates on art, interviews with special guests, shorts, making-ofs and other inspirational stuff. I heard many people praising this resource, so I decided to include it.
ART TUTORIALS AND PODCASTS
Level Up – free online art community for teaching and sharing. Honestly, I've discovered this awesome website while reading the comments under this article – and I'm hugely impressed by the art podcasts available. Thanks, Steve.
FREELANCE
Upwork (ex Odesk) – I have tried a lot of online workplaces and had a great experience with this particular platform, for some mystical reason. Pretty intuitive process of jobs searching, for those who are interested in graphics&design.
GAME ENGINES
Unity – have I mentioned this game development tool? I believe it deserves the second mention. Unity is setting up the trend of democratizing game industry by providing free and super powerful tool that can publish games to plenty of platforms (is it 21?).
Unreal Engine 4 – also one of my favorite game engines. And one of the best all-in-one game environments available to mortals. Should I mention that it is now free you pay only some percentage from your revenue (and only after your game earns more than 100.000$). Grab it and test your weird game idea.
Polycount – an old and respectable forum where game developers and artists gather to showcase their real time content. If you are searching for an advice and inspiration on game visuals, check it out.
SOCIAL MEDIA MARKETING
Casey Neistat – YouTuber that loves meritocracy, democracy and indie filmmaking. Lives in New York City and loves direct connection between creator and audience. 100% authentic and I can't stop watching Casey broadcasting his life.
Darren Rowse – Darren shares his advice for aspiring bloggers and social media enthusiasts. Must read for those who want to make living with her or his blog.
Gary Vaynerchuk –  throws tons of useful content at us – which is MUST SEE if you are into social media. Crushing everything with his charisma and deep knowledge of social media, business, wine and hustle.
Smart Passive Income – very, I mean VERY deep advice on blogging, social media marketing and passive income from Pat Flynn. Learned so much from this guy. Recommend, especially the podcasts.
CopyBlogger – I'm returning to this place from time to time, just to make sure I haven't missed anything important on content marketing. And if I have, I read through the articles like there is no tomorrow. Well, maybe it's an exaggeration, but anyway CopyBlogger publishes a bombastic content, aimed at social media peeps.
Chase Jarvis' blog – if you have a passion for photography and at the same time want to know the today's social media landscape, consider visiting this blog. Personally, I find Chase Jarvis' advice to be very inspiring and helpful.
Austin Kleon – a writer of Steal Like an Artist book and an artist with exceptional personality and a keen eye for typography.
GALLERIES
Artstation – sharing the concept of a famous CgHub, this online gallery with a grid layout is attracting enormous amount of talented artists from all around the world.
CgSociety – ever popular gallery & community of… hmm… cg artists. Take a look and see for yourself!
Blenderartists – Have I mentioned Blenderartists? Anyway, it's worth mentioning the second time, as IT IS the place to share your art if you use Blender. Feedback guaranteed.
3DTotal – online gallery, tutorials for artists, downloadable magazine and much more. 
Deviant Art – the place where you can share your deviations. See? You are not alone, there are many artists that sublimate their fears/desires into art.
Drawcrowd – perhaps, too involved in sexual objectification of women, but incredible gallery otherwise.
BOOKS. SOCIAL MEDIA AND PRODUCTIVITY
Steal Like an Artist by Austin Kleon – the life-changing book for many artists whose ideas and creations are inspired by the ideas of other people. This book makes you accept the cultural influences and not be ashamed by it.
Jab, Jab, Jab, Right Hook. How to Tell Your Story in a Noisy Social World by Gary Vaynerchuk – Posting content to Facebook, Twitter, Instagram and want to know what are the essential differences between these social media? This book covers it all, and what I like about it, features real examples of either brilliant or crappy posts.
REWORK – Change The Way You Work Forever By Jason Fried  – this book perfectly summarizes the trend of 'employing yourself' while working not in the context of some corporate environment, but within the frames of your own lifestyle and your own vision. Must read.
The One Thing by Gary Keller – if I had to recommend just one book, I'd name The One Thing without hesitation. I promise, it will influence how you perceive the success, the work, the life and the cookies (I have eaten a lot of those with coffee).
The Icarus Deception: How High Will You Fly? by Seth Godin – one more potentially life-changing book, that researches the change in the way we work, connect, succeed and fail. And the last point is the most interesting and refreshing part of the book.  
Manage Your Day-to-Day: Build Your Routine, Find Your Focus, and Sharpen Your Creative Mind by Jocelyn K. Glei – this book is a Cure Procrastination spell for us, nerds. The downside of reading this book is that we might as well procrastinate without pretending we learn how to deal with procrastination. But still, one of the best book regarding  productivity.
PASSIVE INCOME AND MONETIZATION
Patreon – basically, this is a service that lets you support the creators you love by donating money to them. As much as I adore everything crowdfunding, Patreon makes it right.
BOOKS. LIGHTING
Alright, it's time for a shameless plug: follow the progress of the Lighting Open Project – my upcoming book about lighting for nerds.

THAT'S ALL FOR TODAY. COME BACK LATER.
If you find this list useful, share it with other artists by clicking these funky buttons below the article. 
SUBSCRIBE
Feel free to subscribe to my newsletter (I guarantee you will like it!). You have my promise that I will keep you updated with the freshly released stuff.
Gleb Alexandrov